Tool for distribution and monetization of
browser games
1 437
players online
519
game portals
ABOUT US
---
We are creating a bridge between players and developers. Thanks to years of experience gained by running PacoGames.com and local websites, we are able to tune the main weaknesses of the games and help developers grow. Games from the platform are consequently distributed to hundreds of gaming websites, and monetized by GameArter systems. All you have to do is upload your game to the system. We do not hold developers by commitments, but with results.
Try strength of GameArter by uploading your first game.
HOW IT WORKS
---
Game development
- ready to use feautures
- fully automatized service
- environment for testing
- support in a case of need
Release
- publication on hundreds of gaming websites
- hosting service with full connectivity all over the world
- current status reporting - playability, revenue, errors...
- analytics of game and users performance
MONETIZATION
- ingame ads
- ingame purchases
- unique affiliate system
- we will help you find the most suitable monetization model
REVENUE SHARE
- 70% of all ingame revenues
- extra bonuses from partners
- money sent via: paypal, wire transfer, bitcoin
- currency: USD, EUR, CZK, BTC
Do you already have a game that is published on different platforms?
Try to publish your game also on the website, you will get new players and another source of income. At the moment, competition on the website is significantly lower than on other platforms.
Do you plan to release your game on different platforms?
Then also consider its web version release. For example, you can release a game on the website, test behavior of the playerbase, fix all problems, find suitable monetization model, and then expand to other platforms more easily. We will gladly help you.
GameArter Platform
---
GameArter helps developers with monetization, distribution, and promotion of their online browser games. We have more than 10 years of experience from the online games world, and we are cooperating with the largest gaming portals in the world. Within the frame of browser games, we are also allowing promotion of mobile (google store, appstore), and desktop (steam) versions of the games.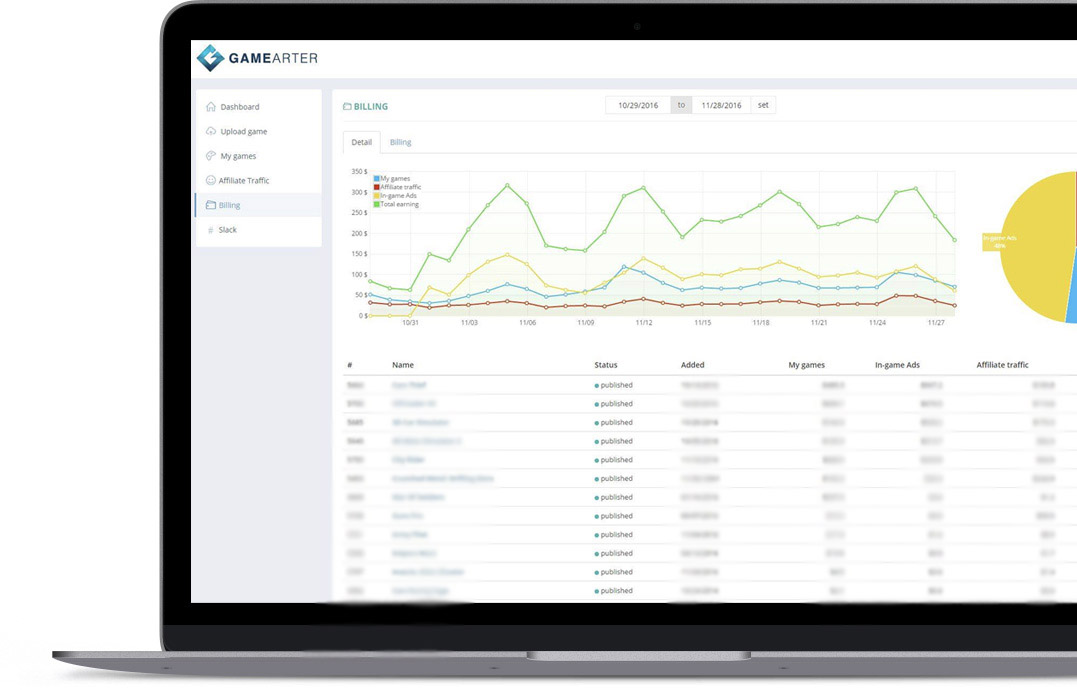 Unique revenue share system
---
We have developed unique algorithm for efficient allocation of profits. Our goal is to make quality games always have 100% revenue share.